Kazzit, Inc., Worlds Largest Winery Guide Acquires Portland Based Syndical Events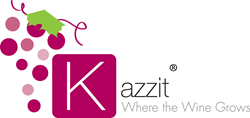 Kazzit International Winery Guide
The two companies coming together, creates tremendous synergies, efficiencies, and positions Kazzit to significantly scale its operations and services in 2018, said Babak Motamedi, CEO of Kazzit
PHOENIX December 07, 2017
On November 28th, 2017 Kazzit Inc., a Phoenix-based international winery guide acquired SyndicalInc., a national events syndication company based in Portland, Oregon for an undisclosed amount. Since it's inception, Kazzit has grown to become the World's #1 winery guide and an informational hub to over 10,000 wineries spanning over 18 countries and six continents.
Syndical developed a proprietary automated event syndication technology and network providing customers with massive brand awareness and event exposure. To date, Syndical primarily services the winery beverage, and gallery industries, making them an ideal complementary acquisition for Kazzit and its stockholders. "The two companies coming together, creates tremendous synergies, efficiencies, and positions Kazzit to significantly scale its operations and services in 2018", said Babak Motamedi, CEO of Kazzit, Inc.
Syndical Founder and CEO, Danton S. Mendell, a Portland startup icon, has agreed to join Kazzit in the roles as Chief Operating Officer, Chief Technology Officer and board member. In addition to Mr. Mendell, other key Syndical members have joined Kazzit's management team in order to drive the company to a new level of success and create new job opportunities in the Portland area.
Since closing of the acquisition, the integration of process and technology has been under way and is scheduled to be completed by mid-December, 2017. Kazzit 2.0, which embodies this automated syndicated event management and technology, is scheduled to be released to the public in February of 2018.
This acquisition, technology integration and combined team expertise will position and reinforce Kazzit as the global leader in wine tourism, and the winery marketing industry, enabling wine lovers worldwide to visit the world's greatest wine locations and sample their products.
Kazzit is the most comprehensive online informational resource within the wine community by connecting wineries, vineyards, restaurateurs, collectors, and enthusiasts and to help them share information about their services, products, experiences and consumer needs.
For more information visit http://www.kazzit.com