LabRoots Announces Winner of Its Fall STEM Scholarship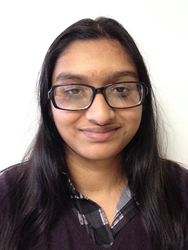 Reshmi Ranjith, winner of the LabRoots Fall STEM Scholarship
YORBA LINDA, Calif. December 15, 2017
LabRoots, the leading provider of educational and interactive virtual events for tech innovators, engineers, and scientists from around the world, is excited to announce Reshmi Ranjith as the winner of the LabRoots Fall STEM scholarship, awarding her $2,000 to support her in her academic pursuits in the STEM fields.
Ranjith is a senior at Westhill High School, who plans on attending Georgia Institute of Technology next fall, majoring in computer science. She has taken computer science courses since her sophomore year, which has fueled her passion and inspiration for majoring in it. She has won the NCWIT Aspirations in Computing Award, served as a tutor for struggling students and has already secured an on-going internship in the Stamford Government's Technology Department.
In her free time outside of her academic pursuits, she has served as the co-president of her school's Girls Who Code club for two years. When girls were out number three to one in her first coding class, she was inspired to start the club, promoting computer science and coding among girls, helping the members learn the fundamentals. She is also part of her school's Future Business Leaders of America club, which features talks from people in the finance industry and teaches leadership skills.
The fall scholarship was opened to a worldwide audience of students, and LabRoots saw hundreds of students apply from all over the world. The selection process was very difficult, as all of the applicants were excellent examples of students seeking to promote science and mathematics. The scholarship will aid Ranjith in funding for her academic pursuits.
LabRoots has seen great success in the first year of the scholarship program and is excited to see it continue in 2018. Those interested in applying for the Spring 2018 STEM Scholarship can apply after the application period opens March 1, 2018, on the LabRoots site here.
ABOUT LABROOTS
LabRoots is the leading scientific, social networking website and producer of educational virtual events and webinars. Contributing to the advancement of science through content sharing capabilities, LabRoots is a powerful advocate in amplifying global networks and communities. Founded in 2008, LabRoots emphasizes digital innovation in scientific collaboration and learning and is a primary source for current scientific news, webinars, virtual conferences, and more. LabRoots has grown into the world's largest series of virtual events within the Life Sciences and Clinical Diagnostics community.