Survey.com Opens New Operations Center in Charlotte As the Gig Economy Picks Up Steam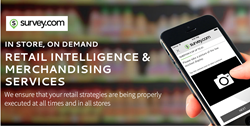 Survey.com's Survey Merchandiser Mobile App
The gig economy continues to be more powerful for, and relevant to, both companies and the freelance workforce
CHARLOTTE, N.C. November 15, 2017
Boston-based retail intelligence firm Survey.com is expanding into the Carolinas market with a new base of operations in downtown Charlotte.
The five-year-old company, whose growth is tethered to the gig economy via a data and analytics platform sourced by mobile crowdworkers, plans to hire 25 full-time employees in the next six months in business development, sales and marketing, human resources and IT at its new location inside the WeWork offices near Stonewall Station. Through this new expansion, Survey.com expects to substantially grow its product and service offerings, as well as its legion of more than 400,000 independent field agents, through the first quarter of 2018. This growth will support current and future consumer product goods (CPG) companies regionally and nationally who work with Survey.com, as well as local emerging brands who can benefit from the company's total retail intelligence solutions.
For Survey.com, this latest move signals an ongoing transformation from a pure service provider to a data-driven company. With roots in traditional merchandising and auditing, Survey.com has led the shift toward retailers adopting more competitive business strategies and merchandising solutions that rely on advanced algorithmic techniques. Going forward, the Charlotte office will provide the incubator for a portfolio of new retail intelligence products for brands and retailers, including "Survey Live," which provides real-time information through an image cataloguing and search engine program, set to launch in Q4 of 2017.
"As a major stronghold in the information technology sector and an overall hub of professional and cultural activity, Charlotte was the ideal location from which to expand our business and attract new talent," says Panos Bethanis, CEO of Survey.com. "Charlotte has earned its reputation as a forward-thinking city. Its stellar educational institutions, financial community and visionary food industry all make it an exciting place to work, live and grow."
"The gig economy continues to pick up steam. Currently, about 55 million Americans are independent contractors — that's more than one-third of the U.S. workforce," says Bethanis. By 2027, MBO Partners predicts that 58% of Americans will have done some freelance work. The segment of traditional freelancers who opt for flexible or part-time gig work is also growing rapidly and is substantially undercounted by governments in the U.S. and Europe, according to a recent McKinsey report.
COMPANY PROFILE
Survey.com combines the best of on-demand retail intelligence and merchandising services that empower consumer brands to increase sales. With a fully vetted national workforce Survey.com ensures that, retail strategies are executed properly in any and all stores across the US., from national chains to regional stores to Mom-and-Pop shops. Their creative merchandising audits and creative services offer best in class packaging, display and their unique profiling technology and matching algorithms allow for customized solutions that make brands stand out from the competition in store. For more information, visit http://www.survey.com