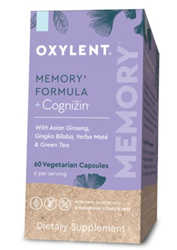 NEW YORK December 14, 2017
Consumers looking to boost brain health, mental clarity and alertness have a new daily supplement to add to nutritional plans: OXYLENT® Memory with Cognizin® Citicoline.
OXYLENT® Memory is designed to support natural energy and cognitive function for heightened alertness and focus for everyday tasks. Anchored by the Cognizin®, a clinically studied nutrient, OXYLENT® Memory also leverages ingredients including Phosphatidyl Choline, Huperzine A, Yerba Maté, Gingko Biloba and Green Tea Leaf.*
Each capsule contains Cognizin® Citicoline, a naturally occurring nutrient found in the brain. Citicoline increases phosphatidylcholine that is critical for healthy brain function. Cognizin ® is a clinically tested form of citicoline that can supply your brain with the nutrition it needs to stay sharp.
For more information, visit http://www.oxylent.com/product/oxylent-memory-formula-cognizin/
This is the second OXYLENT® product to include an encapsulated amino acid ingredient from Kyowa Hakko. In 2015, Vitalah® debuted Sport OXYLENT® with Sustamine® L-Alanyl-LGlutamine. The workout powder is designed to promote sustained energy & stamina during exertion, inhibit fatigue & muscle breakdown, reduce time and energy needed for recovery, enhance muscle strength and muscle repair, replenish glycogen/energy stores and electrolytes, and support metabolism and weight management.* To learn more, visit http://www.oxylent.com/product/sport-oxylent-30-serving-canister/
About Vitalah®
Vitalah® was founded by Lisa Lent as an "invitation to health" born from her passion to create the ultimate supplement for everyday life. Vitalah's flagship product, OXYLENT®, is an effervescent multivitamin drink containing a unique blend of essential nutrients that enable the body to function at peak levels.
Purchasing OXYLENT® products supports Vitamin Angels®—a global non-profit organization that provides under-nourished children with nutritional supplements.
OXYLENT® formulas are available nationwide at major natural food retailers including Whole Foods, The Vitamin Shoppe, Sprouts, and online at http://www.oxylent.com. For more information on OXYLENT® and its amazing line of products, visit http://www.oxylent.com or call 877.OXYLENT (877.699.5368).
Find OXYLENT® on Facebook at http://www.facebook.com/oxylent, on Twitter @oxylent, and on Instagram @drinkoxylentbreathelife.
About Cognizin
Cognizin® Citicoline, manufactured by Kyowa Hakko Bio Co., Ltd., is a clinically studied and patented form of Citicoline, a natural substance found in every cell of the body and especially vital to brain health.* Citicoline is a potent brain-health nutrient. A proprietary form of citicoline, Cognizin® has been clinically studied to support mental energy, focus, attention and recall. Cognizin is manufactured through a patented fermentation process to yield high quality and high purity. Cognizin is also highly stable, GRAS, ultra-pure and allergen-free. For more information on Cognizin, visit Cognizin.com.
About Kyowa Hakko USA
Kyowa Hakko USA is the North & South American office for Kyowa Hakko Bio Co. Ltd., an international health ingredients manufacturer and world leader in the development, manufacturing and marketing of pharmaceuticals, nutraceuticals and food products. Kyowa is the maker of branded ingredients including Cognizin® Citicoline, Lumistor® L-Hydroxyproline, Pantesin® Pantethine, Setria® Glutathione, as well as Sustamine® L-Alanyl-L-Glutamine. For more information visit Kyowa-USA.com.
*These statements have not been evaluated by the Food and Drug Administration. This product is not intended to diagnose, treat, cure, or prevent any disease.